The first question to ask before purchasing a product of this type is which category of cyclist do you belong to and what data you want to know via the bike computer.

How to choose the best bike computer
Tecnologia
In fact, there are different types and the price can vary greatly from one model to another. So let's see first of all, based on the technology they are equipped with, what types of bike computers are on the market, and what type of cyclist each of them is best suited to:
Basic bike computers: they are not really simple odometers, but they don't go too far. This type of bike computer is able to provide standard data, such as speed and distance traveled, but not those relating to training or path completed. On the other hand, battery life is much greater than the more advanced models as these use CR2032 batteries which, thanks to reduced consumption, can last up to two years. Last but not least, they are also the cheapest models on the market. In light of all this we say that the basic bike computers are ideal for those who use the bicycle for short trips or for outings during the weekend.
Bike computer with GPS: here a premise is necessary: we must distinguish cartographic GPS for bicycles from bike computers also equipped with a GPS receiver. In the first case, in fact, they are real navigators for bicycles equipped with cartographic maps capable of indicating cycle paths and guiding the cyclist to their destination, but not provide information on the training carried out (GPS navigators for bicycles do not provide any sensors). In the second case, on the other hand, they are real bike computers that have in addition also a satellite receiver capable of returning data on the journey taken.
Bike computer with ANT + technology: ANT + is a wireless protocol that allows connection between low energy consumption monitoring devices and sensors. Bike computers equipped with this technology can be connected to both heart rate detection sensors and pedaling frequency detectors: in this way the sporty cyclist can receive real-time information on his training and measure effort made. Of course, the top-of-the-range models are equipped with both a GPS receiver and ANT + technology, as well as often Bluetooth technology to be able to transmit training data to your smartphone as well.
Functions
As we have just seen, the number of functions of a bike computer varies according to the technology it is equipped with. In the next paragraphs we will therefore divide the functions into three categories, starting from the basic ones, available on all models, up to those peculiar to a specific technology:
Bike functions: the most common basic functions of the bike computer, that is, those that can also be present on models without any "special" technology are: automatic start / stop, language selection, battery status indication, backlight, clock, distance, speed, training duration and memory.
GPS functions: the most common functions to find if the bike computer is equipped with a GPS receiver are: slope, altitude, calories, compass, route display.
ANT + functions: in order to take advantage of these functions, it is necessary to be equipped with both a bike computer with ANT + technology and a heart rate monitor and cadence and pedaling power sensors. The data that can be monitored with a bike computer equipped with ANT + technology are: heart rate, pedaling cadence, pedaling power.
Display
Although it may seem that all cycle bike computers are the same, in reality there can be big differences between one model and another also from this point of view. These are not to be underestimated as they can affect the practicality and comfort of use. So let's see what we can expect from the display of a bike computer:
Diagonal: the size of the display is quantified by expressing the measurement of the diagonal in inches. Even if the choice is very subjective, it is important to assess whether the data provided is easily readable, or if the space available is too limited and the icons are not clearly distinguishable; screens can also be both touch and digital.
Screens: if the functions are many, then it is better to prefer a model with several screens. The main disadvantage of a model in which the data is spread over multiple screens is that it does not allow the cyclist a complete overview of his training.
Color or black and white screen: if you intend to opt for a model also equipped with a GPS receiver with integrated maps it is preferable to choose one from the color screen because it will allow easier viewing of the route and roads. For basic bike computers, a black and white screen is preferable, as they are generally more visible outdoors and do not lose readability due to the reflection of light.
Fixing system: the bike computers can be fixed to the bicycle in two ways. The most common fixing system provides a support thanks to which to fix the bike computer directly to the handlebar, while rarer is the fixing by means of a bracket, useful for example if the space on the handlebar It is already taken. However, the first system is preferable because it exposes the monitor less to vibrations and oscillations and allows you to select functions more easily.
Connectivity
Speaking of bike computers, there are two meanings in which the word connectivity can be understood. On the one hand, in fact, we could refer to the system through which the monitor is connected to the detection sensors, on the other hand to the technologies through which the detected data are communicated to other devices. Let's see together what the variables can be, both in one sense and in the other.
Data detection : wired or wireless: data detection takes place thanks to a sensor to be mounted on the front fork and a magnet to be hooked to a spoke of the front wheel. The way these three components communicate with each other can be wired ( wired ) or wireless ( wireless ).
Connection to other devices : some models are also able to communicate with other devices and transmit training information. This feature can be useful for saving training data on another device or for sharing the achieved goals with friends. The connection in this case can take place via USB cable, Bluetooth or wifi.
Battery: a final brief mention should be made of the battery of the bike computer. Most of the models are in fact powered by a watch battery (the CR2032), which has the advantage of having a very long life. But be careful when it must be replaced: the cheaper models in fact tend to lose all the data saved when the battery is extracted. Manufacturers generally specify on the instructions or even on the technical data sheets whether the model is able to recover the data or not, so it is always advisable to check carefully before purchasing if this is a need. Other models are equipped with a rechargeable lithium battery and are generally the more complex ones. In this case, the charge indicator will be present on the monitor.
What are the best bike computers of 2022
Garmin Edge 830 GPS
Garmin is one of the best brands not only for navigation but also fitness tracker, sport tracker, smartband and fitness watch. One of the best bike computers for bicycles. Bike navigator with points of interest and maps also for MTB routes, has autonomy of 20 hours is equipped with altimeter, accelerometer, barometer, GPS compass and temperature sensor.
It allows you to plan your route (Roud-Trip-Routing) and is compatible with heart rate belts and speed and cadence sensors. It is also compatible with indoor trainers and provides an estimate of VO2 max and recovery times. An interesting function is the possibility of accident detection with the sending of emergency SMS. 2.6 "color touchscreen display, GPS / GLONASS / GALILEO reception and IPX7 waterproof.
Buy it on
Amazon at the best price
Garmin Edge 530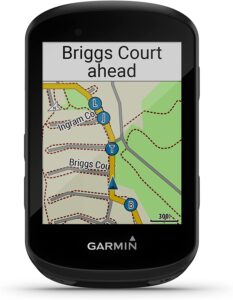 Lesser brother of the Edge 830 but just as powerful and complete. Considered among the best gps bike computers it is ideal both for racing bikes and mountain bikes but also for cycle tourism as it is equipped with GPS with cartography Cycle Map Europe. In addition to the basic functions, it is possible to set advanced training programs, measure VO2 Max and communicate with pedaling partners.
Edge 530 Plus can also receive data from third-party electronic gearboxes with ANT + protocol. Compatibility with Shimano Di2 with ANT + accessory, Campagnolo EPS, Sram eTAP.
2.6 "color display with 20 hours autonomy and IPX7 certified for waterproofing (maximum 1 m depth for at least 30 minutes).
Buy it on
Amazon at the best price of 240.51£ instead of 259.99£
Bryton Rider 320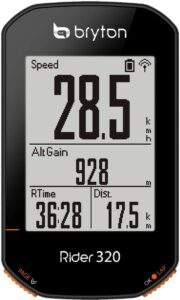 The Bryton Rider 320E bike computer is one of the best-selling models and also the best for quality / price. The price is low but the reliability of an excellent brand such as Bryton. It allows you to record speed, pedaling time, distance traveled, temperature, average and maximum speed, altitude, calories, etc.
It supports third party applications such as STRAVA and TrainingPeaks. Bluetooth connection with smartphone to analyze data via app. Galileo integrated GPS that allows a precise and fast location.
Buy it on
Amazon at the best price of 89.87£
Garmin Edge 130 Plus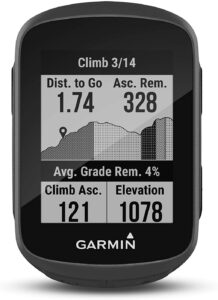 Garmin Edge 130 Plus is small but powerful. Also suitable for racing bikes, Edge 130 is not a cartographic GPS but allows you to upload routes via Garmin Connect with turn alerts. 1.8 ″ black and white MIP display, visible in all light conditions. Reception of GPS / GLONASS / GALILEO satellites, in addition to basic functions such as speed, time etc. it is equipped with a barometric altimeter, VO2 estimate for physiological analysis. Compatible with heart rate monitor and speed and cadence sensors.
Buy it on
Amazon at the best price of 164.99£ instead of 169.99£
Polar M460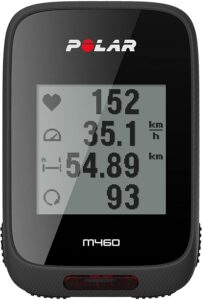 Computers for racing and non-racing bikes, the Polar M460 with integrated GPS and barometer, detects speed, distance, route, altitude, elevation gain and slope. Convenient the ability to view notifications of calls and messages (including WhatsApp) received on the smartphone. Via the Polar Flow mobile app and web service you can see summary data and route. This model is equipped with a chest sensor to measure heart rate. It is also available in a version without a heart rate monitor.
Buy it on
Amazon at the best price
You may also be interested in: