The stand up paddle (SUP acronym) is a variant of surfing in which you stand on a board (similar to that of surfing but with greater volume to support the weight of the athlete), using a special paddle) for propulsion.
The discipline is suitable for everyone and practicing it conveys a deep sense of calm and stillness. Do you know where this discipline came from? SUP was born in one of the most beautiful paradises in the world: Hawaii.
What should be known before buying a SUP
Stability
Stability is the sup's ability to be maneuvered, even in slightly adverse conditions, without losing balance or tipping over. It is a fundamental factor for the purchase of a sup. In fact, if you are a beginner you will need a very stable sup.
Stability depends on the thickness, width and length of the sup. The thicker and wider the SUP the greater the stability. The taller and heavier you are, the bigger and wider the sup board needs to be.
Maneuverability
Maneuverability is inversely proportional to stability. In fact, the more maneuverable a board, the less stable it is. Maneuverability depends on how long a board is in relation to its width.
Tracking
Tracking is the sup's ability to maintain direction in the water. This mainly depends on the central fin included with the purchase of the sup board. The bigger the fin, the better the tracking will be.
Durability of materials
Durability depends on the materials used and more importantly on the type of processing: a cheap sup with a low quality and unreinforced PVC, obviously will last much less than a laminated PVC sup, and reinforced with 1 or 2 additional layers.
On average, a SUP, if treated well and used occasionally, lasts 2 years while an excellent quality product can last even more than 5 years.
Price
Price is also a factor to keep in mind. A good inflatable sup can cost up to  1200-1500 pounds. A good sup in terms of value for money ratio can cost from 400 to 700 pounds.
Accessories
Some basic accessories must be included with the inflatable sup:
Leash: The very important cable that allows you to tie your ankle to the stern of the sup so that it does not move away from you in case of falls in the water.
Backpack: Useful accessory to easily transport the sup, either on foot, by bike or by car.
Fin: The fin is essential as mentioned above to allow the sup to maintain direction while paddling.
Paddle: A good aluminum paddle is fine to start. But later on if you are passionate about this sport and want to go to the next level, I recommend purchasing a carbon paddle.
Pump: Essential tool to allow you to inflate and deflate your sup. The best have included a double or even triple action pump.
The 5 best Inflatable SUPs  (Stand up paddle)
Bluefin Cruise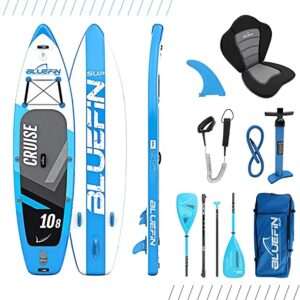 Bluefin is a company made in GB and one of the absolute leaders in Europe. Bluefin Cruise is the all-around model, suitable for everyone and for any type of use. The sup in question is built with laminated PVC and uses dropstitch technology to reach above-average pressures. In fact, this sup can withstand an inflation of as much as 28 psi. Although it is recommended to inflate it to 15-18 psi. The non-slip deck is of excellent quality, heat welded and uses ESL technology to be resistant to UV rays.
Its measurements are 324cm long x 82cm wide x 16cm thick. Which make it super stable and at the same time with decent performance and good maneuverability. The icing on the cake of this sup is the fact that it is super-equipped.
Buy it on
Amazon at the best price of 409.99£ instead of 499£
Aqua Marina Magma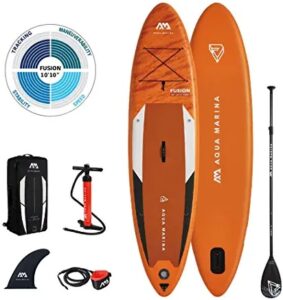 The Magma model by Aqua Marina is part of the all around advanced line of this brand. It is an extremely stable sup, 340 cm long and 84 cm wide, this model is also 15 cm thick, which makes it super stable and also suitable for people who weigh more than 80kg.
The construction is made from military grade PVC, uses dropstitch technology and can be inflated up to 15 psi. Which makes it very solid, almost as much as a rigid sup. Given its more "pointed" bow it is also more performing in the water and has superior maneuverability.
Buy it on
Amazon at the best price
Hydro Force Oceana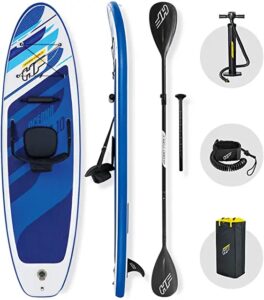 Hydro Force Oceana is a sup produced by Bestway: one of the best known brands in Europe for the production of cheap inflatables. The Oceana has several strengths and some cons. Build quality is excellent. The sup is made of an excellent 3-layer military PVC. Which is not common in a sup of this price range. In terms of measurements, this sup is 305 cm long, 84 cm wide and 12 cm thick.
In terms of stability thanks to the good width we are at excellent levels, however since the sup is only 12 cm thick, we do not recommend using it for a person weighing more than 80 kg. Given the relationship between length and width as well as the shape of the bow, the level of maneuverability and performance does not excel. A plus of this SUP, thanks to the included seat and footrest, is the possibility of using it as a kayak. Also included is a dual-use paddle (sup and kayak). The supplied pump is single action, so it takes about 12 minutes to inflate the Hydro Force Oceana. The carrying bag is of low quality.
Buy it on
Amazon at the best price of 271.49£ instead of 390.74£
Aqua Marina Vapor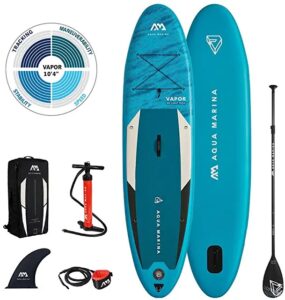 Aqua Marina is a company known for the production of cheap sup with a very high quality / price ratio. In our opinion it is especially suitable for women or men weighing no more than 80kg. A very nice thing about the new Aqua Marina Vapor model is that it can also be used as a kayak. Except that the seat must be purchased separately (you can find it by clicking here).
The sup in question has been improved and has become much more stable. Now the thickness is 15 cm and the width almost touches 80 cm; the weight of this sup is just 8.5kg which makes it super light and very easy to carry. At the level of equipment we find included all the essentials to start paddling: the backpack, a basic aluminum paddle, the leash, a central fin and a double action pump that allows you to inflate it in just 8 minutes.
Buy it on
Amazon at the best price
Sup Nemaxx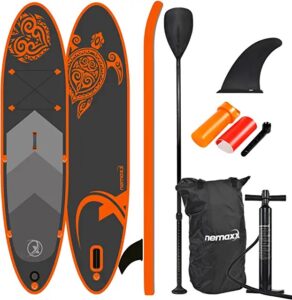 The last paddle we want to recommend is the Sup Nemaxx. The cheapest paddle in this maxi shopping guide. We are talking about a SUP that costs less than € 300. It is a paddle 300cm long, 76cm wide and 15cm thick. So in terms of stability we are at acceptable levels. We recommend it to women and men who weigh under 80 kg and who do not exceed 1.80 in height, to maintain good stability and performance.
The paddle at first glance is not of excellent quality. The build quality is still average: we are talking about reinforced dropstitch pvc. Supplied with the Sup Nemaxx we find the paddle, a pump, a leash and a bag and a repair kit. Ultimately a sup with a very low price, good for starting sup but in our opinion not very durable.
Buy it on
Amazon at the best price