For lovers of the Windows operating system, knowing that Microsoft has been offering laptops designed and studied at home for some years is a dream, the laptop Microsoft are the best for anyone looking for the best Windows experience around.
The best laptop Microsoft are characterized by an incredibly refined design and at the same time practical, useful and comfortable. Just think of the 2 in 1 Surface which have raised the quality rate of a very particular market segment.
Best Microsoft laptops by price range
The Windows enthusiast, or anyone who has been fascinated by the beauty of the best Microsoft laptops, knows what it goes against, the high price. Microsoft laptops are characterized by an unparalleled care for construction with a meticulous choice of noble materials such as alcantara for the keyboards.
The high price, in some cases is not even justified by a list of particularly exaggerated specifications, far from it. Microsoft tends to study the software / hardware synergy perfectly, Windows on a Surface is able to be very responsive even without an important hardware base. Proof of this optimization is the Surface Go, Microsoft's cheapest laptop around. Attention, the guide to the best Microsoft laptops is not a list of all laptops on the market but a careful selection of the best, the brand has placed many laptops on the market in recent years and a selection is necessary. Here are the price ranges of the best Microsoft laptops:
The selection of the best Microsoft laptops is the result of the editorial work of Top.Deals, many of these laptops have been tested and certified to deserve a place in this guide. You will find only Microsoft laptops with updated technical data sheets, solid performance, reliable autonomy and a multimedia compartment at the height.
Last advice before getting into the selection of the best Microsoft laptops of 2022 is to evaluate whether to buy from Amazon. Amazon's customer care is unique, shipments with Amazon Prime are very fast (here you can activate a free trial of Prime ) but the real plus is after-sales assistance. Let's be honest, not many laptop manufacturers can enjoy satisfactory after-sales service, having an extra step of warranty with Amazon is a great advantage. Think about it.
Best Microsoft laptops under 500 pounds
Under 500 pounds there is only the Surface Go to recommend. An interesting machine, a very good 2-in-1 but which just manages to stay below the 500 pounds threshold thanks to the fact that the keyboard cover is sold separately. This is definitely not good news because the keyboard cover is essential to complete the use of the Surface Go in the best possible way. In any case, the basic version is cheap and even with the addition of the keyboard cover you can stay within this figure.
Microsoft Surface Go 3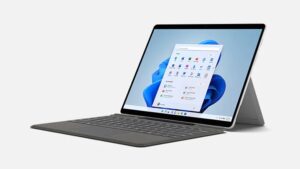 Microsoft's Surface Go 3 does not have a monstrous technical data sheet but it is an interesting 2 in 1, perhaps to be taken on offer. Its strengths are the 10.5 ″ PixelSense display with a resolution of 1920 × 1280 pixels with an aspect ratio of 3: 2, an extra gear for working in the most extreme mobility. Intel's Pentium processor is not the most desirable (there is also in the Core i3 version), as is the RAM of only 4 GB (it exists in the 8 GB version) but thanks to Microsoft optimizations, Surface Go 3 keeps its performance.
It costs a lot for the data sheet it offers, it does not even have keyboard and pen included in the price but if you are looking for a product to always carry around without too many thoughts, he is the right one. Surface Go 3 is worth considering for students looking for a good tool for studying.
Buy it on
Amazon at the best price of 349£ instead of 369£
Best Microsoft laptops under 1000 pounds
From 500 to 1000 pounds, things change because the workhorse Surface Pro 8 comes into play. Also in this case to stay within the price range you need to focus on the basic configuration and take the cover with keyboard in promotion or with some discount. For everything else Surface Pro 8 is one of the best Microsoft laptops in circulation, certainly among the best Microsoft laptops.
Microsoft Surface Pro 8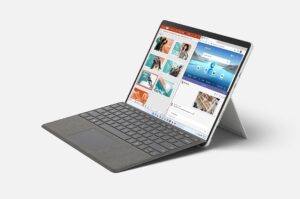 Don't be fooled, the Surface Pro 8 looks like a tablet but has the power of a full-fledged high-end laptop. Aside from the fact that the keyboard must always be taken apart, Surface Pro 8 is the king of outdoor productivity. Its compact design is perfect for working on the train or plane, it can easily fit into those infernal tables. The PixelSense display is from 13 "to 120 Hz and has an aspect ratio of 3: 2, useful for working even in multitasking without space problems. Note of merit for the touchscreen display, must have for a self-respecting 2 in 1. On the front, there is still a secret, the face unlock sensor with Windows Hello.
Technically it has nothing out of place, 11th generation Intel Core i5 processor, 8GB of RAM and 128GB SSD module. The number of ports supplied is not very high but the Surface Pro 8 is a product designed for convenience and flexibility of use, as a pure work machine it could have some more compromises than a classic laptop but if you are looking for portability extreme, there is little to discuss.
Buy it on
Amazon at the best price of 849£ instead of 999£
Microsoft Surface Laptop Go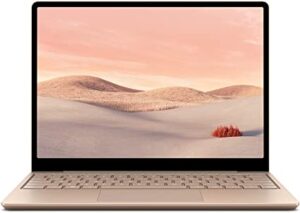 If you are looking for a Windows laptop under 1000 pounds that can be stylish and powerful, this is the one. Curated as only Microsoft knows how to do, it has a 12.4 "screen in 3: 2 FullHD. Intel Core i5 1035G1 processor with Intel UHD graphics card, 8 GB of RAM and 256 GB of SSD ensure top performance for running Windows, after all, we cannot expect anything else from Microsoft itself.
A complete, useful and practical laptop. Microsoft did not want to overdo it, it did a very simple job, it equipped this laptop with a nice display, a good keyboard, a good trackpad and a durable and elegant design. The Surface Go is a great looking Microsoft computer.
Buy it on
Amazon at the best price of 529£ instead of 699£
Best Microsoft laptops over 1000 pounds
Over 1000 pounds the best Microsoft laptops are interesting machines but with some clarifications. Surface Pro X is a very particular, fascinating, almost futuristic 2 in 1 but unfortunately its functioning is not yet perfect. Surface Pro X relies on a new ARM processor that is not 100% compatible with all historical applications, professional or not of Windows. You can take a look at Surface Pro X by clicking here but not recommended at the moment. The best Microsoft laptop to fetch over 1000 pounds is the Surface Laptop Studio.
Microsoft Surface Laptop 4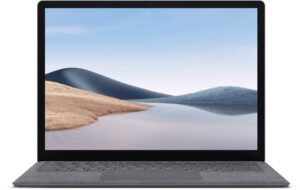 A true laptop from Microsoft, the Surface Laptop 4 is a gem. With attention to every little detail, there is even the version with alcantara palm rest, available in 13.5 "and 15" both with PixelSense screen in 3: 2, a feature of the entire Surface product family. Intel Core or AMD Ryzen processor, 8 GB of RAM and 256 GB of SSD ensure top performance for running Windows, after all, nothing else can be expected from Microsoft itself.
Not only a work machine but also a means to consume content with maximum comfort, in addition to the undoubted quality display, there is an Omnisonic stereo sound with speakers hidden under the keyboard. Design meets power, but the price is high. 1199 pounds is an important figure. The best Microsoft computer.
Buy it on
Amazon at the best price of 1349.99£
Microsoft Surface Laptop Studio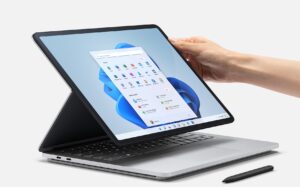 Microsoft with the Surface Laptop Studio creates a very particular convertible with a 14.4 "display in 3: 2 at 120 Hz with pen support and obviously various ways of use with stands and tablets. There is no lack of power with the 11th generation Core i5 and Core i7 processors but of the H series, in short, the beautiful powerful ones and are in combination with the RTX 3050 Ti to perform every graphic task in the best possible way.
Buy it on
Amazon at the best price of 1899£
Best Microsoft laptops ever
If you haven't found the product you were looking for in this guide to the best laptops, there is one reason for it. This is a selection of the best Microsoft 2022 laptops that will be updated every month based on new releases or repositioning on the laptop market, in the future the laptop you have been aiming for for some time may also be added. A tip is to save this page in your favorites and check it from time to time to follow the new updates.
If you are looking for a quick, clear and decisive advice, here is the best Microsoft laptops ever of 2022 to take for the various price ranges:
Best Microsoft laptops under 500 pounds: Microsoft Surface Go 2
Best Microsoft laptops under 1000 pounds: Microsoft Surface Pro 8
Best Microsoft laptops over 1000 pounds: Microsoft Surface Laptop Studio
You might be interested in: