HP laptops in Italy are very popular, they can be found everywhere, in any store and in all online shops. The laptop proposed by HP are many and for all budgets but for this reason it is not easy to choose one.
Pointing to one of the best laptop HP ​​ may be a good choice but there is it is necessary to untangle the many solutions that the brand has launched on the market in recent years.
Best HP laptops by price range
For convenience and to get a clear picture of the proposal of the best HP laptops, we have divided this selection into price ranges. The guide to the best HP laptops is not a list of all laptops on the market but a careful selection of the best HP computers.
HP laptops are divided by series, from the cheapest to the premium ones. We start with the entry-level ones, we move on to the Envy line which is the best-buy one for value for money, we go to the premium line with the Specter line and ends with the Omen line dedicated to gaming. Here are the price ranges of the best HP laptops:
The selection of the best HP laptops is the result of the editorial work of Top.Deals, many of these laptops have been tested and certified to deserve a place in this guide. You will find only laptops with updated technical data sheets, solid performance, reliable autonomy and a multimedia compartment at the height. For this reason some HP laptops are not present, the brand has not yet released a 2020 version.
Last advice before getting into the selection of the best HP laptops of 2022 is to evaluate whether to buy from Amazon . Amazon's customer care is unique, shipments with Amazon Prime are very fast (here you can activate a free trial of Prime ) but the real plus is after-sales assistance. Let's be honest, not many laptop manufacturers can enjoy satisfactory after-sales service, having an extra step of warranty with Amazon is a great advantage. Think about it.
Best HP laptops under 300 pounds
HP 14S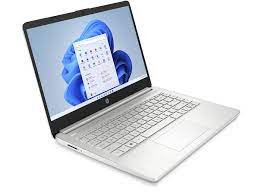 The HP 14S isn't exactly the dream laptop but for those on a budget , it's one of the alternatives to consider. These are 14″ laptops with only HD resolution, the processor is an Intel Celeron N4020 and is supported by only 4 GB of RAM but with a 128 GB SSD module and if you want you can also upgrade the RAM. Not bad the number of ports available while the keyboard and trackpad combination is not the best. In any case, for what it costs, if you are looking for Windows 10 it can fit.
Best HP laptops under 500 pounds
In the price range between 300 and 500 pounds, HP laptops are already starting to be more interesting. The processors are still limited in power, do not think you can jump between Chrome, Premiere and Photoshop without seeing obvious lag but if used correctly they can already start to give satisfactions. In this price range the technical equipment improves, there are more laptops with capacious SSDs and honest RAM. The trade-offs still remain important but they still remain excellent HP laptops for value for money.
HP laptop 255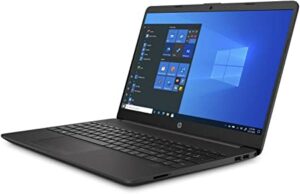 HP laptop 255 with AMD Ryzen 3 processor and with 256 GB of SSD is a very good base from which to start. The RAM is 8 GB and thanks to the combination of Intel processor and a fairly fast SSD memory Windows 10 will do just fine. Among the demerit notes is the 15.6 "FullHD display which is decidedly large to work without space problems but is not particularly bright and bright. The design is sober enough, the port equipment is good.
Best HP laptops under 700 pounds
The best HP laptop of 2020 in this price range means business . The selected laptop takes good care of handling temperatures as from 500 pounds to go up the processors can push much more in terms of bare and raw performance. There are no big, insurmountable compromises in this price range even if the design, the screen and the smoothness of the touchpad still remain mid-range. Here's which HP laptop to get under 700 pounds.
HP Pavilion X360 14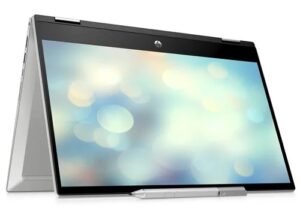 Its place is taken by HP Pavilion X360 14 , a nice convertible also sold with an active pen included. It is a very interesting complete package, Pavilion X360 has a 14 ″ FullHD display with touch support and able to be used with the pen in tablet mode. The processor is an 11th generation Intel Core i3, again a shame about the absence of the integrated Intel Xe video card. it closes with 8 GB of RAM and 256 GB of internal memory M.2 NVMe SSD which complete the picture of a super interesting economic convertible as an hp laptop offer.
Best HP laptops under 1000 pounds
Selected laptops in this price range have unique features that set them apart from the lower ranges. Of course, we are close to the premium segment of the market but HP has managed to launch some very interesting proposals within 1000 pounds. Here are two best buy laptops from HP of 2022.
HP Pavilion 15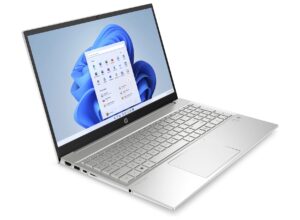 HP Pavilion 15 is absolutely a very good laptop. The display is an IPS 15.6 ″ FullHD resolution, the processor is Ryzen 5 5500U, 8 GB of DDR4 RAM and a 512 GB PCIe NVMe SSD module. Nor should the important number of doors be underestimated. It comes full circle with a sleek design and good build.
HP Envy X360 AMD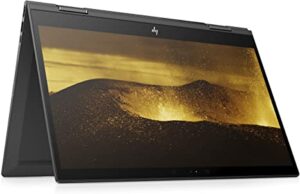 HP Envy X360 2020 has arrived on the market with the new AMD 4000 series processors. In particular, Envy X360 is a convertible with Ryzen 5 4500U with 8 GB of RAM, SSD module from 512GB and integrated Radeon Vega graphics. The display is 13.3 "Full HD with reduced bezels and touch and active pen support. The new Envy X360 convertible laptop also has fast charging support, Bang & amp; Olufsen certified audio and is solid in the bases with a beautiful design and a good keyboard Excellent solution from HP.
HP Pavilion Gaming 15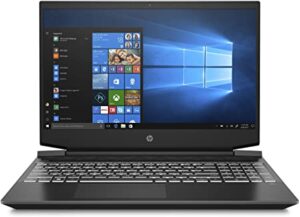 If you are looking for good performance under 1000 pounds and you are not afraid of the size and questionable design, this 15.6 ″ HP Pavilion Gaming is perfect. Needless to say, the design is as aggressive as ever with green inserts and keyboard backlighting of the same color, keyboard which is among the few things that are not at the top, you could do better but somewhere you have to save somewhere to have these specifications. Another negative note is the hinge, you have to be careful when opening.
The specifications are those that strike a true gamer and beyond, this Pavilion Gaming 15 has an Intel Core i5 10300H processor with a GeForce GTX 1650 . Obviously the performance is of a high profile and you will be able to play the most demanding titles without fearing large frame losses but there is a need to give up the battery life which without too many words is poor. Excellent equipment of ports, very well the speakers edited by Bang & amp; Olufsen, less well the brightness of the display but at least the screen is anti-reflective. To cost less than 1000 pounds it must have some small sacrifices but these are easily negligible things.
Best HP laptops over 1000 pounds
The best HP laptops over 1000 pounds are the most desirable . The selection for this price range was very difficult, important laptops were left out, very valid but that have too high a price or technical specifications that are not updated. The best HP laptops of 2022 over 1000 pounds have no particular cons, if not the autonomy for some gaming products, the choice must be made according to personal tastes. After all, you are investing in a product that will keep you company for a long time, better not make any kind of renunciation in this price range.
HP Envy 17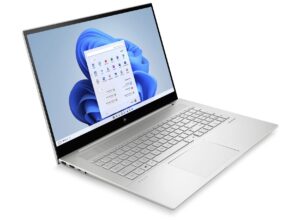 HP Envy 17 has a 17.3 ″ FHD display with small bezels and lots of workspace. The processor is an Intel Core i5 1065G7, 16 GB of DDR4 RAM and a large 1 TB SSD module. Interesting is the presence of a dedicated 4 GB NVIDIA MX330 graphics card. The keyboard has been significantly improved over the previous generation, the trackpad is large but not yet at the top and there is a good fingerprint sensor for logging in via Windows Hello.
HP Victus 16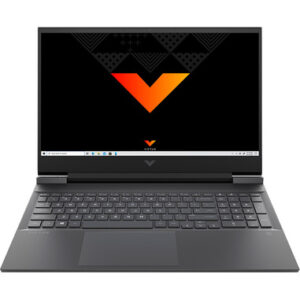 HP brings its Victus line to Italy with the Victus 16 , unknown to many people but deserves some attention. The processor is the Intel Core i5 11400H, the one with the high TDP, then there are 16 GB of RAM, 512 GB of SSD and a dedicated RTX 3050 Ti graphics card. To close the circle, the display is a nice 16 "FullHD at 144 Hz.
HP Omen 15 2021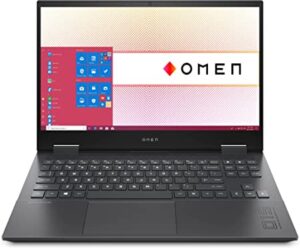 HP Omen 15 in version 2022 has improved a lot. Always top configurations with 11th generation Intel Core i7 processor or AMD Ryzen 7 500 series processor, GeForce RTX 3060, 16 GB of RAM and 1 TB of NVMe PCIe SSD. HP has improved the design, the cooling system and also the display which is available in two configurations always from 15.6 "with FHD at 144 Hz. Still marked improvements for touchpad, keyboard and general construction. Even the Omen logo has been revised, the 2021 version of HP Omen 15 is to be taken.
HP Omen 16 AMD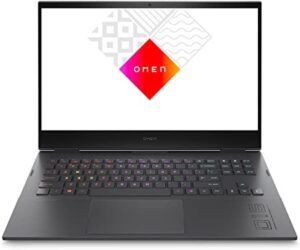 HP Omen 16 has a nice 16 "FullHD display with 165 Hz refresh rate, the processor is an AMD Ryzen 9 5900HX with 16 GB of RAM and 1 TB of SSD. The real highlight is the Ryzen 9 combo with the AMD Radeon RX 6600M video card that also enables smart access memory to maximize any type of action on the laptop, not just gaming but also productivity. A fantastic machine that is part of the AMD Advantage program .
Best HP laptops ever
If you haven't found the product you were looking for in this guide to the best laptops, there is one reason for it. This is a selection of the best HP 2022 laptops which will be updated every month based on new releases or the repositioning on the laptop market, in the future the laptop you have been aiming for for some time may also be added. A tip is to save this page in your favorites and check it from time to time to follow the new updates.
If you are looking for a quick, clear and decisive advice, here is the best HP laptops ever of 2022 to take for the various price ranges:
Best HP laptops under 500 pounds: HP 14s
Best HP laptops under 500 pounds: HP laptop 255
Best HP laptops under 700 pounds: HP Pavilion X360 14
Best HP laptops under 1000 pounds: HP Pavilion Gaming 15
Best HP laptops over 1000 pounds: HP Omen 16