In 2022, laptops are starting to collapse. True, they did this before but now what folds is the huge flexible OLED display. Many manufacturers are experimenting with this new form factor that will revitalize the entire laptop sector, too firm in shape for years even if there has been no lack of 2 in 1 and convertible devices.
Best foldable laptops are not just concept designs, they are real products and some will hit the market very soon at a very high price. We are facing the first generation of flexible laptops, in the future, many solutions could change their aesthetic form and become more and more sought after.
Best folding laptops by price range
Talking about price ranges for the best folding laptops is premature, those that will arrive on the market are few but the future of laptops is now outlined and soon the market segments will be increasingly accessible and covered. Small clarification, the 100% foldable laptops have an OLED display that can fold on itself, they are large displays that can be used in various ways before folding them like a book and minimizing clutter.
There are also dual-screen folding laptops that still lack a real independent category but the various brands associate them with the concept of "folding". Here are the price ranges of the best folding laptops ever of 2022.
The selection of the best folding laptops is the result of the editorial work of the whole Top.Deals team, most of these laptops have been analyzed and certified to earn a place in this guide. You will only find laptops with up-to-date datasheets, convincing performance, effective thermal management, and a good value for money. To underline the fact that this guide to folding laptops is not a list of all laptops on the market but a real selection of the best, it is possible that some machines have not been included in the guide because they are not considered valid or in too prototype state.
Last advice before getting into the selection of the best folding laptops of 2022 is to evaluate whether to buy from Amazon. Amazon's customer care is unique, shipments with Amazon Prime are very fast (here you can activate a free trial of Prime) but the real plus is after-sales assistance. We will be frank, not many folding laptop manufacturers can enjoy satisfactory after-sales service, having an extra guarantee step with Amazon is a great advantage. Think about it.
Best folding laptops over 1000 Euros
As already mentioned, we are in the early stages of releasing the first foldable laptops. Manufacturers are experimenting with a lot of courage new and innovative form factors capable of being extremely convenient in everyday life thanks to a series of external accessories such as wireless keyboards for the most part. Lenovo has the most complete flexible laptop, Microsoft has the Surface Neo which will hit the market in a few months, Intel has shown a reference design and Dell is moving between dual screens and flexible OLEDs. Here are the best folding laptops over 1000 Euros.
Lenovo Thinkpad X1 Fold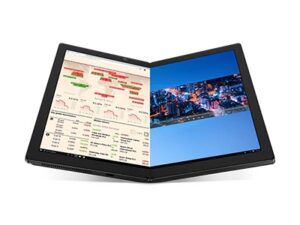 Lenovo Thinkpad X1 Fold is the first foldable laptop that will actually arrive on the market and will do so soon. It has a large 13.3 "display with FullHD + resolution, obviously OLED to be able to fold back into itself to become a small laptop. It can become a large tablet or be folded in half and used as a classic laptop with a virtual keyboard but 'and more.
Lenovo has thought of adding an external Bluetooth keyboard that can be placed on the display to avoid typing with the virtual keyboard but not only if you want it is possible to place the entire display open on a plane thanks to the kickstand and use the keyboard as a type of external accessory creating a real desktop-like set up to take anywhere. It has a 10th Generation Intel Core processor, 8GB of RAM, and up to 1TB SSD but in this case, the specs matter very little. Lenovo Thinkpad X1 Fold opens the doors to the future with a price of 2899 Euros.
Buy it on
Amazon at the best price
Microsoft Surface Neo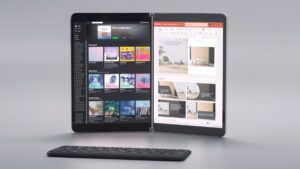 Microsoft Surface Neo folds like a book but without having a flexible display, it is a dual-screen consisting of two 9″ displays. Microsoft will launch the Surface Neo on the market in a few months but has already shown the potential of its product, especially in combination with the magnetic keyboard.
The keyboard can be used both on the display and detached in order to recreate a mini desktop setup. Microsoft has also developed a way to have an innovative trackpad, in fact, in notebook mode, the area above the physical keyboard can act as a touchpad. The Wonder Bar, on which emojis, GIFs, and short text messages can be inserted, is activated with physical keyboards, but can also be enabled by switching to a virtual keyboard since it is supported. In addition to the input, the Wonder Bar can be used to display multimedia content. The specifications have not yet been fully released but there will also be support for the Surface Pen. A really promising dual-screen laptop.
Buy it on
Amazon at the best price
Intel Horseshoe Bend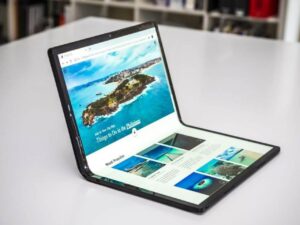 Horseshoe Bend is a prototype, a kind of reference design that Intel wanted to suggest to laptop manufacturers. It will be difficult for this foldable, flexible laptop to arrive on the market in this form but it is clear that it is possible to build such a device, in the future many laptop manufacturers will refer to this Intel Horseshoe Bend. A pity, because the flexible OLED display is a 17″ with 4K resolution and HDR, once folded it can be carried like a small 12″ laptop. According to Intel, this is how a foldable laptop should be.
Buy it on
Amazon at the best price
Dell Duet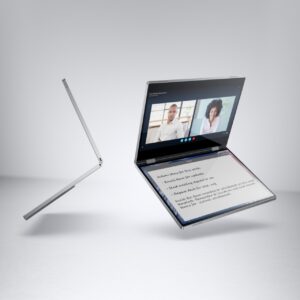 Dell Duet is a kind of dual-screen convertible that can rotate 360 °. It seems to be the more mature solution compared to a folding laptop prototype but Dell hasn't released a technical data sheet anyway, there is not even the possible availability. The interesting thing is that it is a completely borderless dual screen with active pen support for digital artists and a wireless keyboard that can be used both on one of the two parts of the display and completely independently to create a desk set up of extreme mobility.
Buy it on
Amazon at the best price
Dell Ori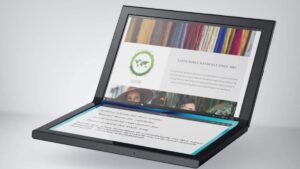 Dell Ori is a 100% foldable laptop compared to Duet's dual-screen. It has a 13.3″ display obviously OLED to be able to fold back on itself. It can become a large tablet or be folded in half and be used as a classic small laptop. Dell has not shown a wireless keyboard for Ori but it is almost certain that it will be provided to place the entire open display on a surface and use the keyboard as an external accessory.
Buy it on
Amazon at the best price
Asus Zenbook 17 Fold Oled

The Zenbook 17 Fold Oled is a foldable tablet in 4: 3 format that folds into almost a 13″ and can also be combined with an external wireless physical keyboard in order to create various types of set up all very imaginative. Innovative form factor aside, even from the point of view of performance it gives up something because there is a 12th generation Intel Core i7 processor with 16 GB of RAM and a PCIe NVMe SSD.
Buy it on
Amazon at the best price
Best foldable laptops ever
If you haven't found the product you were looking for in this guide to the best laptops, there is one reason for it. As mentioned at the beginning, this is a selection of the best folding laptops of 2022 that will be updated every month based on new releases or the repositioning of the laptop market, in the future the laptop you have been aiming for some time could also be added. A tip is to save this page in your favorites and check it from time to time to follow the new updates.
If you are looking for a quick, clear, and decisive advice, here are the absolute best folding laptops of 2022 to take for the various price ranges:
Best folding laptops over 1000 Euros: Asus Zenbook 17 Fold Oled