Acer is a well-known brand, it is one of those laptop manufacturers that does not neglect any market segment trying to offer a laptop for every need and price availability also in the gaming world.
Pointing to one of the best laptop Acer is a good move, the quality of products in recent years has grown a lot even in entry level products, managing to offer laptops with a very high quality-price ratio.
Best Acer laptops by price range
For convenience and to have a clear picture of the proposal of the best Acer laptops, we have divided this selection into price ranges. The guide to the best Acer laptops is not a list of all laptops on the market but a careful selection of the best.
Acer laptops are divided by series, from the cheapest to the premium ones. Acer Aspire series laptops are the ones with the highest value for money, there is also the Spin series which offers something with an attractive price. Beyond 700 Euros there are the best Acer gaming laptops of the Nitro series, followed by the Predator line which goes over 1000 Euros. There are also the new ConceptD, laptops suitable for true creators of professional content but they are very prohibitively priced laptops. Here are the price ranges of the best Acer laptops :
The selection of the best Acer laptops is the result of the editorial work of Top.Deals, many of these laptops have been tested and certified to deserve a place in this guide. You will find only laptops with updated technical data sheets, solid performance, reliable autonomy and a multimedia compartment at the height. For this reason, some Acer laptops are not present, the brand has recently released new versions but they are not yet available for purchase.
Last advice before getting to the heart of the selection of the best Acer laptops of 2022 is to evaluate whether to buy from Amazon . Amazon's customer care is unique, shipments with Amazon Prime are very fast (here you can activate a free trial of Prime ) but the real plus is after-sales assistance. Let's be honest, not many laptop manufacturers can enjoy satisfactory after-sales service, having an extra step of warranty with Amazon is a great advantage. Think about it.
Best Acer laptops under 300 Euros
If you are looking for the best Acer laptop under $ 300, you need to have in mind what kind of use you are going to make of this laptop. Unfortunately, in this price range the performances allow a good web browsing, the drafting of documents with the Office package and little more.
To do other types of work or use with these laptops, there is a need to lower expectations a lot. Of course, you can watch Netflix and Youtube in peace but the quality of the display will be low, as well as the power of the speakers. In any case, if you plan to use an Acer laptop in the leanest and most basic way ever, here is a budget Acer laptops to consider under 300 Euros.
Acer Aspire 3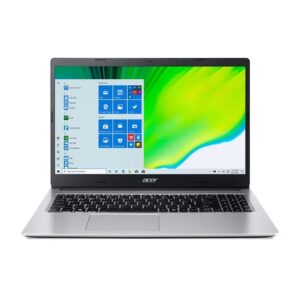 Acer Aspire 3 has the minimum technical data sheet for the discreet operation of Windows 10. The AMD A9 processor allows you to manage all applications without significant delays, the RAM memory supporting 4 GB will not be able to guarantee exaggerated multitasking but will be able to withstand multiple Google Chrome tabs smoothly. Sure, the laptops is big, it has a 15.6 ″ display with only HD resolution and a not high maximum brightness but Acer Aspire 3 has 1TB of storage and a very complete set of ports. The keyboard is not bad, the touchpad is small and not exactly very precise.
Acer Chromebook Spin 311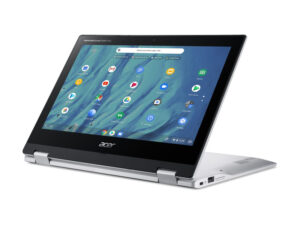 The Acer Spin 311 is a super budget Chromebook . The list price slightly exceeds 300 euros but on Amazon it is often going on offer with prices under 249 euros. It has no enviable technical specifications, it only has 64 GB of internal memory, 4 GB of RAM and a MediaTek processor. Fortunately, ChromeOS doesn't need an impressive spec sheet to work. To be evaluated only if you know what you are going to encounter with ChromeOS but it is still among the best budget laptops also in terms of design and construction.
Best Acer laptops under 500 Euros
In the price range between 300 and 500 Euros, Acer laptops are already starting to be more interesting. The processors are still limited in the power of Acer computers, do not think you can jump between Chrome, Premiere and Photoshop without seeing obvious lag but if used correctly they can already start to give satisfactions. In this price range the technical equipment improves, there are more laptops with capacious SSDs and honest RAM. Compromises are still important, but Acer laptops are still excellent value for money.
Acer Aspire 3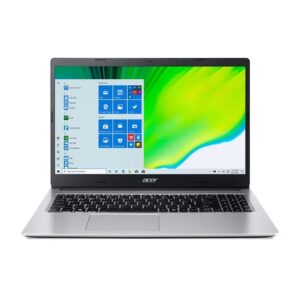 Acer Aspire 3 with 10th generation Intel Core i3 processor and with 512 GB of SSD is a very valid base from which to start for the asking price. The RAM is ok with 8 GB DDR4 of which 4 are welded on the board and 4 are replaceable, Windows 10 will not have particular uncertainties even over time.
Among the notes of merit there is the 15.6 "display, decidedly large to work without space problems, it has a FullHD resolution which in 2022 should be the minimum basis for viewing Netflix or Youtube at an acceptable quality, unfortunately it is not particularly bright and bright but if you plan to spend a lot of time on your PC, there is the BlueLightShield function to protect your eyes from blue light. The design is sober enough, the port equipment is good and has a section linked to connectivity that is decidedly taken care of with a Wi -Fi 5 stable and rocky.
Best Acer laptops under 700 Euros
The best Acer laptop of 2022 in this price range is serious . The selected laptop has a good care for design, construction and temperature management since from 500 Euros to go up the processors can push much more in terms of bare and raw performance. There are no big insurmountable compromises in this price range. Here is which Acer laptop to take under 700 Euros.
Acer Aspire 5 AMD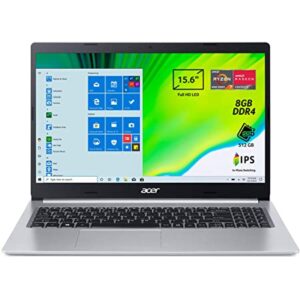 Acer Aspire 5 is absolutely the best laptop within 700 Euros, the only note being the not particularly bright and optimized display (IPS, 15.6 ″, FullHD resolution). For everything else, Aspire 5 has updated technical specifications with the new AMD Ryzen 5 4500U processor and Radeon graphics card, 8 GB of DDR4 RAM and a large 512 GB PCIe NVMe SSD module. Acer's experience can be felt in temperature management, Aspire 5 is able to operate under considerable stress and not limit its performance.
Also not to be underestimated is the important provision of ports with even a very rare Ethernet port that could make the difference in the business context. It closes the circle with an elegant design, a good construction, a precise keyboard and a touchpad that is not huge but responsive enough. The price, however, the real difference, 599 Euros for Acer Aspire 5 are too tempting, it is one of the best-selling Acer laptops as well as being among the best quality-price laptops.
Best Acer laptops under 1000 Euros
Selected laptops in this price range have unique features that set them apart from the lower ranges. Of course, we are close to the premium range of the market but Acer has managed to launch proposals with an enviable hardware base at a very attractive price within 1000 Euros. Here are two best buy laptops from Acer of 2022 .
Acer Aspire 5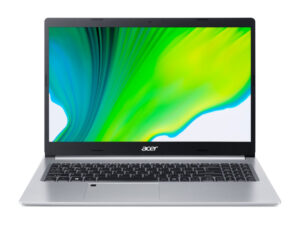 Really very nice the new Acer Aspire 5 with processor is an Intel Core i5-1135G7 with Intel Xe graphics, 8 GB of RAM and a 1 TB SSD module. The display is 15.6 "with FullHD resolution, there are two supporting speakers, Wi-Fi 6, many ports available, a fingerprint sensor for Windows Hello and a good heat dissipation system underneath the screen for the management of the 11th generation Core i5.
Acer Nitro 5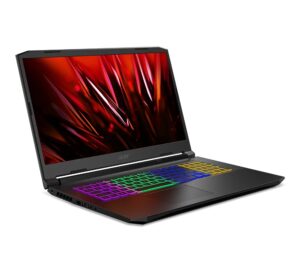 The new Acer Nitro 5 with Intel Core i5-10300h and dedicated video card RTX 3060 with 6 GB is super interesting. Not only cpu + gpu, even the display is worthy of merit, it is a 15.6 with a refresh rate at 144 hz able to take advantage of all the fps that the 3060 can generate. It goes a little over budget but has an excellent dissipation system, it is fully upgradeable and then there is a 3060 with ray tracing and dlss, it's really the best.
Best Acer laptops over 1000 Euros
The best Acer laptops over 1000 Euros are the most desirable . The selection for this price range was very difficult, important laptops were left out, very valid but that have too high a price or technical specifications that are not updated. The best Acer laptop of 2020 over 1000 Euros have no particular cons, if not the autonomy for some desktop replacements, the choice must be made according to personal tastes. After all, you are investing in a product that will keep you company for a long time, better not make any kind of renunciation in this price range.
Acer Predator Helios 300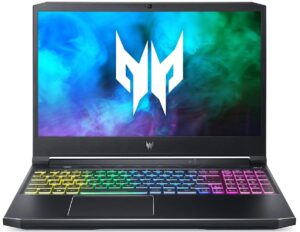 Acer Predator Helios 300 has a questionable design but thanks to its performance, even the low battery life can be forgiven. Intel Core i5 10300H processor, 16 GB of RAM, 1 TB SSD and a GeForce RTX 3060 graphics card are numbers on paper that translate into an immersive experience thanks to the 15.6 "display with FullHD resolution and 240Hz refresh rate. All this power is kept at bay thanks to the Aeroblade 3D technology, it is Acer's new cooling system that will allow this Predator Helios 300 not to heat up too much and limit performance.
Acer Concept D3 Ezel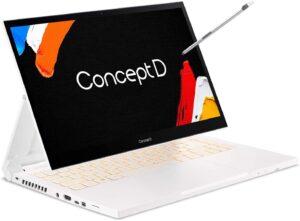 The Acer ConceptD 3 Ezel is one of a kind. The reason is one, it can be considered a 2 in 1 useful for both digital artists and gamers thanks to its flexibility. In any case it is an impressive laptop with Intel Core i7 10750H processor, 16 GB of RAM, 512 GB SSD and the GeForce GTX 1650 graphics card. The display is a FullHD anti-glare, also supports the touchscreen with active pen integrated in the body. Read our review of Acer ConceptD 3 Ezel .
Best Acer laptops ever
If you haven't found the product you were looking for in this guide to the best laptops, there is one reason for it. This is a selection of the best Acer 2022 laptops which will be updated every month based on new releases or the repositioning on the laptop market, in the future the laptop you have been aiming for for some time may also be added. A tip is to save this page in your favorites and check it from time to time to follow the new updates.
If you are looking for a quick, clear and decisive advice, here is the best Acer laptops ever of 2022 to take for the various price ranges:
Best Acer laptops under 300 Euros: Acer Aspire 3
Best Acer laptops under 500 Euros: Acer Aspire 5
Best Acer laptops under 700 Euros: Acer Aspire 5
Best Acer laptops under 1000 Euros: Acer Nitro 5
Best Acer laptops over 1000 Euros: Acer Predator Helios 300