Intel, with its Core processors, has dominated the laptop market for years, only now we are starting to see some solutions with AMD processors but we are talking about a few units that we have analyzed in our selection .
This market domination has led to quite a bit of confusion in choosing a new laptop with an Intel processor. The proposal has expanded dramatically to cover many price ranges and a selection is required for find the best Intel Core laptops .
Best Intel Core i3, Core i5, Core i7 and Core i9 laptops
For convenience and to get a clear picture of the proposal of the best Intel Core laptops, we have divided this selection into processor ranges. The guide to the best laptops with Intel Core processors is not a list of all laptops on the market (it would be practically impossible) but a careful selection of the best proposals of the various brands. Here are the processor bands of the best Intel Core laptops:
The selection of the best Intel Core laptops is the result of the editorial work of the whole Top.Deals team, many of these laptops have been tested and certified to earn a place in this guide. You will find only laptops with updated technical data sheets, solid performance, reliable autonomy and a multimedia compartment at the height.
Last advice before getting into the selection of the best Intel Core laptops of 2022 is to evaluate whether to buy from Amazon . Amazon's customer care is unique, shipments with Amazon Prime are very fast (here you can activate a free trial of Prime) but the real plus is after-sales assistance. Let's be honest, not many laptop manufacturers can enjoy satisfactory after sales service, having an extra step of warranty with Amazon is a great advantage. Think about it.
Best Intel Core i3 laptops
Under $ 500 it's really hard to find an Intel Core processor. Let's be clear, it does not mean that it is not possible to find cheap laptops with Intel processors but it is practically impossible to find those of the Core series. In any case, here is an Intel Core i3 laptop under 500 pounds:
Acer Aspire 3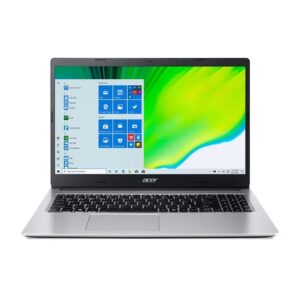 Acer Aspire 3 with 11th generation Intel Core i3 processor and with 512 GB of SSD is a very valid base from which to start. The RAM allocation is ok with 8 GB DDR4 of which 4 are welded on the board and 4 are replaceable, Windows 10 will not have particular uncertainties even over time.
Among the notes of merit there is the 15.6 "display, decidedly large to work without space problems, it has a FullHD resolution which in 2022 should be the minimum basis for viewing Netflix or Youtube at an acceptable quality, unfortunately it is not particularly bright and The design is sober enough, the port equipment is good and has a section linked to connectivity that is decidedly taken care of with a stable and rocky Wi-Fi 5.
HP Pavilion X360 14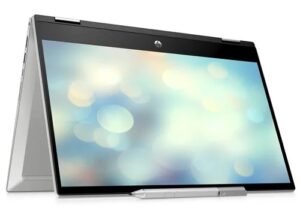 HP Pavilion X360 14 is a nice convertible also sold with an active pen included . It is a very interesting complete package, Pavilion X360 has a 14 "FullHD display with touch support and able to be used with the pen in tablet mode. The processor is an 11th generation Intel Core i3, too bad for the no integrated Intel Xe video card. 8 GB of RAM and 256 GB of internal memory M.2 NVMe SSD complete the picture of a super interesting cheap convertible.
Best Intel Core i5 laptops
This is the most attractive price range to take a laptop with an Intel Core processor. The solutions are not many but they are all valid for value for money especially in view of the adoption of the new generation Core i5. Here are best laptops with Intel Core i5 :
MSI Modern 14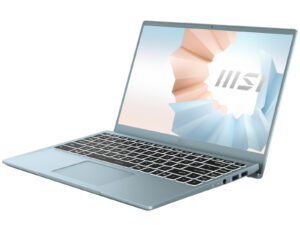 The attention to detail of this MSI Modern 14 is almost flawless, it's a nice alternative to keep on your wish list. We give you some advice, if you are a minimum of IT experts, aim for savings and buy the version without an operating system, for all others this version with Windows 10 Home is recommended. The processor is a 10th generation Intel Core i5 with 8GB of RAM and a very fast 512GB NVMe SSD module.
It is not so much the data sheet that is tempting but the machine itself, first-level thermal management, enviable performance, reliable keyboard with an above average touchpad, excellent set of ports and a display with optimized 14 "FHD frames with almost the 100% sRGB coverage. All enclosed in little more than a single kg with a design that stands out for its elegance. MSI computer knows how to satisfy everyone's requests, probably the best laptop under 500 pounds.
Acer Nitro 5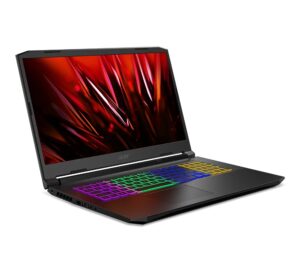 The new Acer Nitro 5 with Intel Core i5-10300h and dedicated video card RTX 3060 with 6 GB is super interesting. Not only cpu + gpu, even the display is worthy of merit, it is a 15.6 with a refresh rate at 144 hz able to take advantage of all the fps that the 3060 can generate. It goes a little over budget but has an excellent dissipation system, it is fully upgradeable and then there is a 3060 with ray tracing and dlss, it's really the best.
Dell G15 2021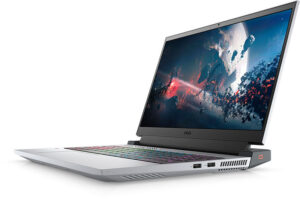 Dell G15 is a fantastic machine with Intel Core i5-10200H processor , 16GB of RAM, 512GB SSD and a GeForce RTX 3050Ti graphics card. These are numbers on paper that translate into an engaging experience thanks to the 15.6 "display with FullHD resolution and 120 Hz refresh rate even in the basic model. All this power is kept at bay thanks to Dell's new cooling system that will allow this G15 to express itself at its best. The aesthetics are not the best but it is definitely powerful for the price and can be updated very easily.
Asus TUF Gaming Dash F15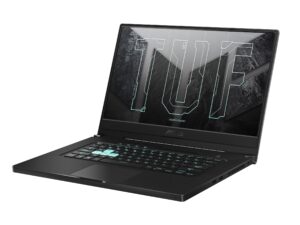 A preview gaming laptop arrives on Amazon. This is the good Asus TUF Gaming Dash F15 with 11th generation Intel Core i5 and dedicated RTX 3050 video card. A lot of power that is enhanced by the large 15.6 "display with FullHD resolution and refresh rate of 144 Hz. This is a very complete machine with a small exclusive on the GPU, it was one of the first laptops to include it.
Best Intel Core i7 laptops
Within the 1000 pounds laptops with Intel Core processors are really great, no power limits even for those who want to play games with their computer and there are often good intel core i7 laptop offers. Here are the best Intel Core i7 laptops:
Samsung Galaxy Book Pro 360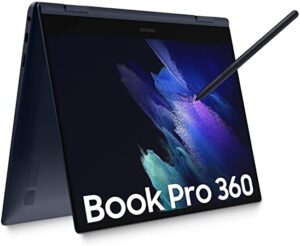 The Samsung Galaxy Book Pro 360 is truly a fantastic machine, it's a very thin convertible with Spen support and a Super Amoled display available in two sizes, 13.3 and 15.6. There are also processor configurations, starting from 11th generation core i5 up to core i7 with Intel Xe integrated graphics. An exclusive and luxurious convertible car.
Dell XPS 15

The legendary Dell XPS 15 in its new basic version can be a nice choice over 1000 pounds. The XPS series paved the way for borderless laptops, XSP 13 is ultra compact integrating a 15.6 ″ OLED display with 3.5 resolution (not in touchscreen version). The processor is an 11th generation Intel Core i7 and support for the dedicated graphics card RTX 3050 Ti with 16 GB of RAM and 512 GB of M.2 NVMe SSD.
There are all the great features of the XPS series such as the touchpad, one of the best in the Windows world or the keyboard which is a real pleasure to use. The construction, both internal and external, allows this Dell XPS 15 to be squeezed to the maximum without losing performance, the heat management is excellent even if there is some silence to be given up.
Microsoft Surface Laptop Studio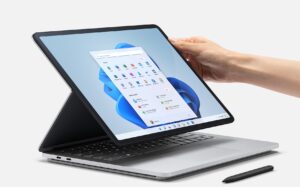 Microsoft with the Surface Laptop Studio creates a very particular convertible with a 14.4 "display in 3: 2 at 120 Hz with pen support and obviously various ways of use with stands and tablets. There is no lack of power with the 11th generation Core i5 and Core i7 processors but of the H series, in short, the beautiful powerful ones and are in combination with the RTX 3050 Ti to perform every graphic task in the best possible way.
Dell Alienware M17 R4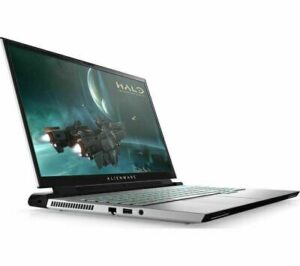 With an aggressive design and magnesium construction, the Dell Alienware M17 R4 is one of a kind. This is an impressive gaming laptop with Intel Core i7 10870H processor, 16 GB of RAM, 512 GB SSD and the NVIDIA GeForce RTX 3070 graphics card. The display is a FullHD anti-glare, the keyboard is with RGB backlight and the set of doors, needless to say, is very complete. It closes with a 17.3 "display with 144Hz refresh rate. An incredible laptop, Dell's best gaming laptop.
ASUS ROG Zephyrus M16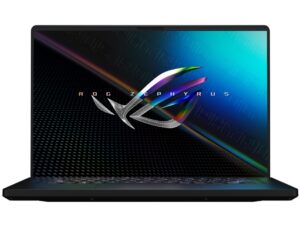 The new ASUS ROG Zephyrus M16 is a super gaming laptop with Intel core i7 11800H , RTX 3070, 16 "QHD display in the size of a 15" with 165 HZ refresh rate and also a 720p webcam , finally. Obviously 16 GB of expandable RAM, 1 TB PCIe 4.0 SSD and a lot of care for keyboard, trackpad and audio. The dissipation system is adequately calibrated to its power and also the design is not bad at all. Excellent gaming laptop aside by ASUS ROG.
Best Intel Core i9 laptops
MSI, Lenovo, Dell and HP are very high quality brands that have launched premium proposals for over 1000 pounds with Intel Core processors. It is generally easy to find the top of the range, the Core i9 that offers truly impressive performance. Here are the best Intel Core i9 laptops:
MSI GS66 Stealth

MSI GS66 Stealth is a truly stylish gaming laptop. Aesthetically it is very calm, subtle and sober. While it's not big and massive, it doesn't have any kind of performance limitations with the 12th Gen Intel Core i9 processor and NVIDIA's RTX 3080 graphics card, 32GB DDR5 RAM, and 2TB GB SSD. The display is a 15.6 ″ with QHD resolution and refresh rate up to 240 Hz (small frames) also the audio section is very accurate thanks to the presence of Hi-Res audio. The cooling system to keep this little beast at bay is the Cooler Boost Trinity + with 3 fans and 7 heatpipes. It costs a lot but is an incredible msi laptop.
Best Intel Core Laptops Ever
If you haven't found the product you were looking for in this guide to the best laptops, there is one reason for it. This is a selection of the best Intel Core 2022 laptops which will be updated every month based on new releases or repositioning on the laptop market, in the future the laptop you have been aiming for for some time may also be added. A tip is to save this page in your favorites and check it from time to time to follow the new updates.
If you are looking for a quick, clear and decisive advice, here is the best Intel Core laptops ever of 2022 to take:
Best Intel Core i3 laptops: Acer Aspire 3
Best Intel Core i5 laptops: Asus TUF Gaming Dash F15
Best Intel Core i7 laptops: Microsoft Surface Laptop Studio
Best Intel Core i9 laptops: MSI GS66 Stealth